THE BEE BOTTLE BY BEGÜM KHAN 2021
---
"A true design classic is rare; and even more rare is the opportunity to reimagine it through a different creative vision, while honouring its legendary heritage. So, I was both proud and humbled to bring a touch of Begum Khan's fanciful wonder and eccentric elegance to Guerlain's signature fragrance bottle, as part of the Bee Bottle collaboration. Since embarking on this collaboration, I have been constantly amazed by the synergies between myself, a young Turkish designer, and the centuries-old house of Guerlain. With the Bee Bottle, we have constructed a bridge between the past and the future, the east and the west.
Since 1828, the House of Guerlain has the love of perfume and the love of art at its core. This artistic and olfactory duality is reflected in the fruits of a creative partnership between Guerlain and talented Turkish designer Begüm Kıroğlu. This magical collaboration, transports the iconic Bee Bottle into Begüm Khan's sumptuous universe between the ancient Ottoman lands and a dreamlike world.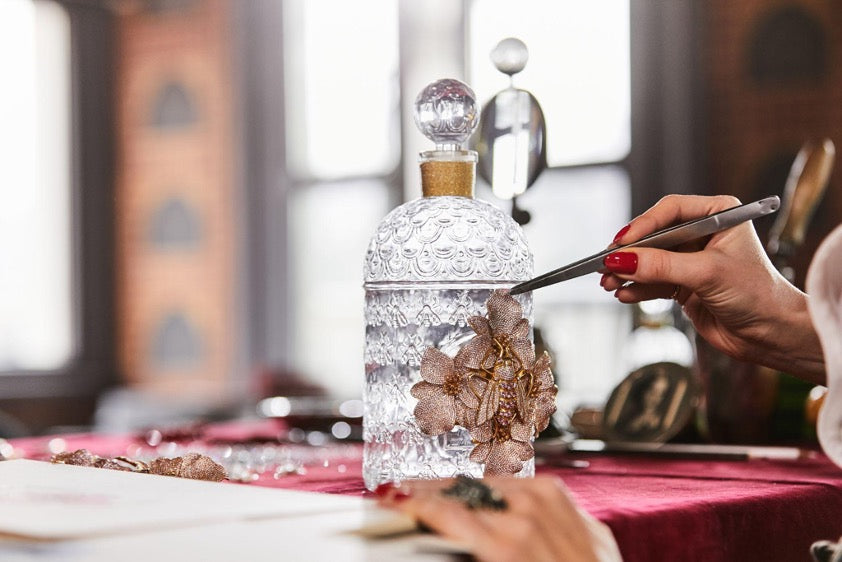 Born into a family of art collectors in the former imperial capital of Istanbul, Begüm Kıroğlu began cultivating her love of beautiful things from young age. Strongly influenced by nature and the East, her designs are crafted with rare and precious materials. Bringing exotic fauna and flora and contemporary and timeless to life, her exquisite creations hark back to a glamorous bygone era, modernised through a touch of audacity.
Like a unique work of art, the Bee Bottle, dressed in a finery of gold-plated bronze adorned with precious stones, as dreamt up by Begüm Kıroğlu. In her magical design, an imperial bee, the Guerlain symbol, escapes from its dreamlike universe for a fleeting moment to land on the bottle, encircled by four majestic flowers. Limited edition bottles which are handmade by Turkish craftsmen in a historic workshop in the old part of Istanbul, through a labour of love that imbues every bottle with its own personality and soul. The final touch was the Dames de Table of the Guerlain Ateliers adorn the bottle with this precious embellishment, crowning the piece with a fine gold thread around the neck of the bottle.